Zac Kohl
Executive Director
Zac has long considered Akron to be the epicenter of the universe. Growing up in the Westside of Akron, he traded over to the Eastside in 2012. That is where his wife, Beth, and he bought and rehabbed a home for their three sons.  Zac founded The Well CDC in 2016 and decided to repurpose a hundred-year-old church building. When he isn't coming up with awesome ideas, he loves investing in his local church as a pastor and coaching his sons' soccer teams.
Kelly McHood
Associate Executive Director
Kelly grew up on the southside of Akron not far from where her grandparents lived when they were children. While she has spent a significant amount of time traveling throughout the United States and abroad, she found her home right back where she started. She lives with her partner, Steve, and thier four cats. They enjoy being outside, eating local food, and conversing about late-stage capitalism, regenerative systems, and yoga philosophy.
Curtis Minter, Jr.
Operations Director
Curtis was born and raised in the great City of Akron. In 2014, Curtis left us for Denver, CO, but could not stay away for long. He found his way back to Akron in serving the residents of Middlebury at The Well CDC. After a decade in the nonprofit sector, he's got the skillset to accomplish any task –like adaptively reusing 100-year old churches or building out shared-use kitchens! Curtis serves our local community in a variety of ways including President of the Akron Urban League Young Professionals.
Reuben Auck
Housing Manager
Reuben Auck is a Middlebury resident and a member of the Restoring Housing team for The Well CDC. He received his degree in Construction Engineering Technology from the University of Akron in 2012. Prior to joining The Well CDC staff, he worked for Greater Cleveland Habitat for Humanity as a Construction Site Supervisor and served as a Board Member for The Well CDC. He joined staff in 2017 and has been involved in the purchase and renovation of 70+ units in Middlebury.

Jen Meade
Fund Development Director
Jen is originally from Toledo, Ohio but has called Akron home since her freshman year at UA in 2013. She graduated from The University of Akron with a BA in Education and stayed in Akron because of her love for the city, the people, and of course Zippy. She started and currently manages The Well CDC's Akron Hope program, oversees the Resident Services team, and supports the Fund Development team. She has 8+ years of experience working in philanthropy and loves that she gets to support students, teachers, and families with her daily work.
Jen received The Greater Akron Chamber 30 for the Future Award in 2021, The University of Akron's 5 under 35 in 2022, is an associate board member for the Ohio and Erie Canalway Coalition, and serves as a steering committee member for Akron Public School's College and Career Academies.
Joyce Fox
Property Manager
Joyce Fox is a property manager who helps develop families to mature tenancy and home ownership. She graduated from Kent State University with a degree in Rhetoric and Communication and is a lifelong learner having participated in numerous trainings and received recognition in entrepreneurship, culture of poverty, mindset, and classroom leadership. The 25 years of experience within education and housing has taught her to approach property management with a social work mindset to restore value and dignity to the families we serve. When she is not working with families, find her coaching health-minded individuals, line dancing, creating art through photography, or making special gifts. 
Chris Norris
Housing Coordinator
Before serving with The Well CDC, Chris worked diligently to start and maintain a thriving property management and housing restoration business. His pursuit of giving back has been evident through the use of his talents and resources. Over the past few years, Chris has had the opportunity to do remodeling projects in multiple states, work on disaster relief teams, and even do building projects overseas. Starting with a background in ministry and business, Chris has allowed his passion in the field of construction and serving others to fuel his work at The Well CDC.
Joe Vassel
Acquisition/Rehab Manager
In the first year of The Well CDC''s inception I was able to connect with Reuben to install a hardwood floor in one of the properties. I was shocked that he showed up on a Saturday to help, and even more surprised by how well he did working on the project. This attitude has been demonstrated by all The Well CDC team members, day in and day out. Already being a Middlebury resident and appreciative of The Well CDC's cause, joining the organization felt like hitting the lottery. I hope my love of power tools and passion for craftsmanship will encourage my neighbors to get building…together!
Marta Roueiheb
Workforce Manager
After studying psychology at Kent State University, Marta had a series of opportunities to support creative new endeavors across the country. She worked for start-ups in San Francisco, led teams on commercial rebranding projects in Idaho, and built a sustainable business line for a National Park. Whatever the enterprise, Marta believes that a commitment to diversity, equity, and inclusion must be central to her work. Now back home in Akron, she has found The Well CDC to be the perfect place for her commitment to equity and passion for program development to come together. As Workforce Manager and leader of the Middlebury Workforce Coalition, Marta is humbled by the opportunity to gain a deeper understanding of our community, its challenges, and most importantly, its resources.
Todd Schelereth
Fund Development Assistant
After 12 years serving in a support-based ministry to help people grow spiritually, Todd is now involved with The Well CDC to continue to help others to grow. He is excited to apply his fundraising experience to a new context as part of the Fund Development team. While The Well CDC isn't a ministry, he feels it is a blessing to be part of adding fuel to the fire of this important work to support others overcome significant barriers and affirm their God-given value and dignity.
Erica Banks
Akron Food Works Coordinator
Erica is a true Akronite. She graduated from Firestone High School, went on to Central State University to obtain a degree in Sociology, and then returned home to pursue a career in social services for 7 years. It was then she wanted to open her own Restaurant and Lounge in Akron. With almost 4 years of food entrepreneurship under her and understanding the complications yet rewards of starting a business, she found herself helping food entrepreneurs start and grow their business at The Well CDC.
Anna Muntin
Compass + Communications Coordinator
After graduating from The Univeristy of Akron in 2021 with a Bachelor's Degree in Marketing, Anna decided to combine her love of coffee with her desire to invest in her community at The Well CDC as a Compass barista. Five months later, she came on full-time as the part-time Finance Coordinator and part-time Lead Barista. Now she assists in managing The Well's social media, communications, and special usage, but you can still find her most mornings down in the cafe practicing her latte art.
Olivia Noland
Fund Development Coordinator
Olivia's undergraduate degree brought her to the City of Akron, and she has lived here ever since. Since completing her Master's Degree in 2014, she has worked in and around Akron in various contexts, including churches, non-profits, and Christian higher education. Her primary responsibilities at The Well CDC involve fund development and sharing The Well's story through grant writing! She is married to a wonderful man who she loves and respects greatly. They have two children and enjoy traveling, the outdoors, and serving in their local church. She believes people matter and has spent her professional and personal life trying to consistently live that out.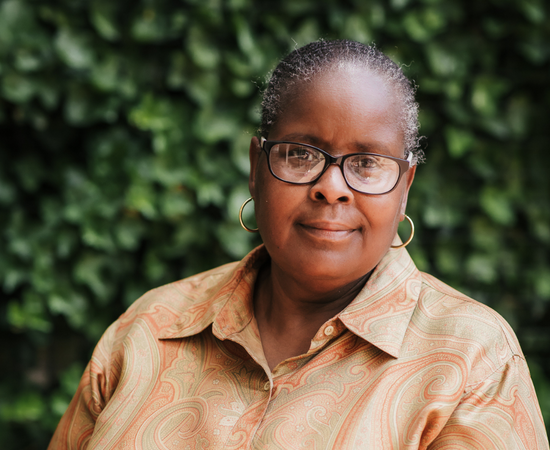 Gwen Adams
Custodian
Gwen Adams is a Middlebury resident who has lived in Akron for the last forty four years. She is an integral part of the team at The Well CDC as she maintains the building and grounds in a clean and safe manner for all who visit.
In her spare time, Gwen is a professional cook specializing in southern cooking. She is a proud mother of two sons who she brags about constantly. Gwen states her favorite thing about working at The Well CDC is the people who she works with side by side.
Ann Durr (Chairperson)
Market President, Portage Community Bank
Past President & COO, Valley Savings Bank
Allan Hill 
Engineering Supervisor, Swagelok Company
Angela D. Harper
Recruitment & Retention Manager, Akron Public Schools
Dameon Jackson
Residential Manager, Focus2focus Independent Living
Rachel Bridenstine
Executive Director, Development Fund of the Western Reserve & Western Reserve Community Fund
Tracy Carter
System Director, Government Relations, Summa Health
Michelle De La Isla
Managing Director, Draper Richards Kaplan Foundation
Former Mayor, City of Topeka, Kansas
David Griffing
Executive Vice President, Government Affairs, Energy Harbor
Sue Lacy
Round River Consulting
David H. Maynard
General Manager, OEM
Tremco Commercial Sealants & Waterproofing
Nate Ollish
Certified Financial Planner, Impel Wealth Management
Dan Roberson
Vice President, Community Development Consultant of Northern Ohio, PNC Community Development Banking
James Talbert
Pastor, Citizens Akron Church
Craig Melnick
Global Risk Management, Goodyear Tire and
Rubber Company